Oggi vogliamo presentarvi un'app religiosa per Mac. Parliamo di Presence, un'app religiosa che aiuta tutti i fedeli a migliorare il proprio rapporto con la fede.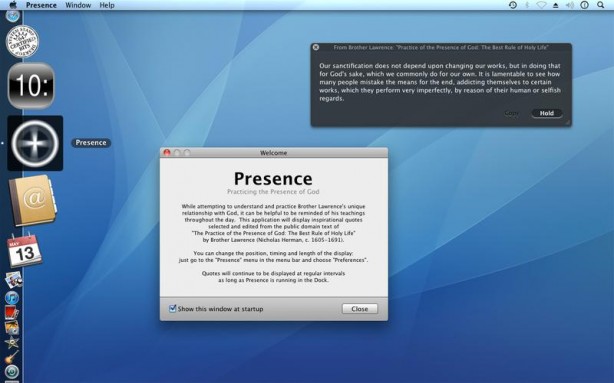 Quest'applicazione mostrerà delle citazioni giornaliere scelte, tratte dal libro di pubblico dominio "The Practice of the Presence of God: The Best Rule of Holy Life" di Brother Lawrence. Questi messaggi ispireranno i fedeli nel ricercare Dio e nel pregare.
E' possibile cambiare la posizione, la dimensione, il tempo e la durata del messaggio che viene mostrato sul display del Mac. Se necessario, è possibile anche attivare un avviso sonoro per richiamare l'attenzione sul messaggio. Inoltre è possibile scorrere manualmente tra tutte le 100 citazioni disponibili.
L'applicazione pesa veramente poco (0,8MB), è localizzata solo in inglese e richiede OS X 10.5 o successivi per funzionare.
Presence è disponibile per Mac sul Mac App Store al prezzo di 0,89€.
MacBook Air M2 in sconto su
App Store (Mac)