Nella giornata di oggi Apple ha reso disponibile OS X 'Mountain Lion', insieme a tutte le nuove funzionalità che con esso verranno introdotte; tuttavia, come riportato da Cult Of Mac, non tutti i Mac potranno godere del nuovo aggiornamento, e qui di seguito vi proponiamo una lista dei computer Apple esclusi.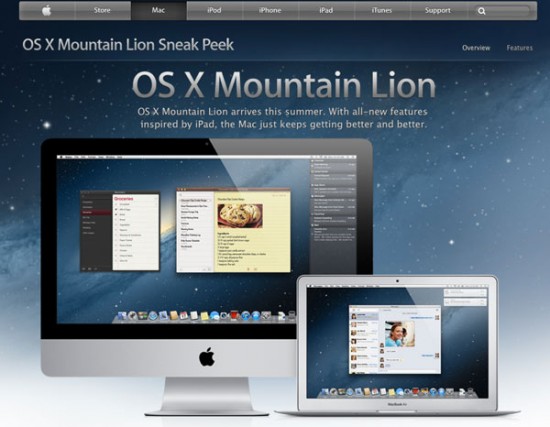 Nonostante molti potranno immediatamente utilizzare la nuova versione di OS X, molti saranno obbligati ad acquistare un nuovo Mac; Apple ha infatti rimosso il supporto ai chipset Intel GMA 950 e x3100. Come riportato da Cult of Mac, dunque, di seguito trovate una lista di computer che non saranno compatibili con la nuova release:
Qualsiasi MacBook Intel Core 2 Duo dal 2007 al 2008 (modelli MB061*/B, MB062*/B, MB063*/B, MB402*/A MB403*/A MB404*/A, MB402*/B);
Il Mac mini di metà del 2007 (modelli MB138*/A, MB139*/A)
iMac in policarbonato del tardo 2006 ( modelli MB138*/A, MB139*/A);
MacBook Air di inizio 2007 (modello MB003LL/A)
Chiunque fosse in possesso di una delle macchine sopramenzionate, quindi, sarà obbligato a rimanere ad OS X Lion.
AGGIORNAMENTO: aggiorniamo la lista con le dovute correzioni!
Questi i Mac supportati:
iMac (mid 2007 or later)
MacBook (13-inch Aluminum, 2008), (13-inch, Early 2009 or later)
MacBook Pro (13-inch, Mid-2009 or later), (15-inch, 2.4/2.2 GHz), (17-inch, Late 2007 or later)
MacBook Air (Late 2008 or later)
Mac Mini (Early 2009 or later)
Mac Pro (Early 2008 or later)
Xserve (Early 2009)
E questi sono invece quelli non più supportati:
Late 2006 iMacs (iMac5,1, iMac5,2, iMac6,1)
All plastic MacBooks that pre-date the aluminum unibody redesign (MacBook2,1, MacBook3,1, MacBook4,1)
MacBook Pros released prior to June 2007 (MacBookPro2,1, MacBookPro2,2)
The original MacBook Air (MacBookAir1,1)
The Mid-2007 Mac mini (Macmini2,1)
The original Mac Pro and its 8-core 2007 refresh (MacPro1,1, MacPro2,1)
Late 2006 and Early 2008 Xserves (Xserve1,1, Xserve2,1)
(grazie Luca)
News